---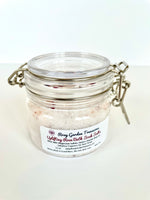 Uplifting Rose Bath Soak Salts
Rosy Garden Treasures
* Mild ingredients with Epsom salts made of hydrated magnesium sulfate, mineral-rich pink Himalayan sea salts rock salt mined from ancient salt beds within the Himalayan Mountains protected from pollution and impurities believed to be one of the purest forms of salt available, and rose petals to gently soak, cleanse, and sooth body and skin all over for the ultimate home spa experience. 
* Lightly scented with Rose Fragrance Oils. 
* Dissolves quickly and easily in warm water without hassle mineralizing the warm water to be absorbed by the skin for all over deep cleansing soak. 
* Handcrafted in Grand Blanc, Michigan, USA with premium ingredients and with love. 
* No parabens, formaldehyde donors, preservatives, nor phthalates 
* Not tested on animals 
* Bath salts wt approx. 6.5 oz, plus container wt for total shipping wt 10.3 oz 
* Clean smoke-free environment 
* Great for gifts for special occasions, guest, and traveling 
* Directions:  Store the salts in a dry, cool place.  For best experience to soak your body, when your bath water is half full, pour a handful or two of salts directly into warm running bath water and stir to start to dissolve.  Soak for about 20 - 30 minutes.  Use 1 or 2 times per week.  Or you may mix salts with shower gel to create your own exfoliating body scrub and massage onto damp skin in circular motions.  Not recommended for facial skin.  For external use only.  Avoid contact with eyes or rubbing your eyes during and directly after use.  Keep out of reach of children.  If you prefer not to have petals floating in your tub, place the bath salts in an herb or tea bag before use.  
* Ingredients:  Magnesium Sulfate, Sodium Chloride (Pink Sea Salt), Rose Fragrance Oils, Dried Rose Petals 
* Disclaimer:  Contact your healthcare provider immediately if you suspect that you have a medical problem.  This product has not been evaluated by the FDA and is not intended to diagnose, treat, cure, or prevent any disease or health condition.  
* Thanks for looking!