---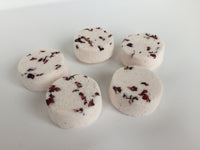 Relaxing Lavender Bath Bomb Fizzies
Rosy Garden Treasures
* Mild ingredients including coconut oil gently relax and sooth 
* Lightly scented with natural lavender essential oil 
* Handcrafted and made in Michigan, USA, with care and premium ingredients 
* Not tested on animals 
* Net wt approx. 2.25 oz 
* Individually wrapped to preserve freshness 
* Clean, smoke-free environment 
* Great for gifts for special occasions, guests, traveling and samples 

* Directions:  Store wrapped and in a dry location, out of the reach of children.  The fresher it is, the more it will fizz.  To use, simply place one of the bath bomb fizzies into bath water to release the bath bomb fizz and enjoy.  You can enter the tub while the bath bomb is still fizzing, or you can wait until it has finished.  Be careful getting into and out of the tub as the oils in the bath bomb may make the tub slippery.  Avoid rubbing your eyes during and directly after use.  For external use only. 
* Ingredients:  sodium bicarbonate, citric acid, coconut oil, polysorbate, pink sea salt, natural lavender essential oil, red rose petals. 
* This product has not been evaluated by the FDA and is not intended to diagnose, treat, cure, or prevent any disease or health condition. 
* Thank you for looking!