---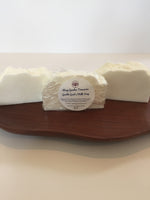 Gentle Goat's Milk Soap
Rosy Garden Treasures
* Mild ingredients with Goat's Milk very gently cleanse with delicate, creamy, rich lather 
* Goat's Milk contains alpha-hydroxy acids including lactic acid which help slough off and remove dead skin cells from the skin's surface.  This leaves new skin cells on the surface of the skin that are softer and smoother.  
* Also contains vitamins A, D, and fatty acids that reduce the ph balance in finished soap to very close to levels found in the human body.  
* The oils are easily absorbed by skin and help balance skin's moisture needs.  
* Handcrafted in Grand Blanc, Michigan, USA, with premium ingredients, skin-loving oils, and with love. 
* Hypo-allergenic, non-comedogenic, non-GMO, biodegradable, soy free 
* No scents, dyes, sulfates (SLS or SLES), parabens, synthetic detergents 
* Not tested on animals 
* About  3.5 x 2.5 x 1 inches 
* Full size wt approx. 4 oz (113g) 
* Small size wt approx. 0.5 oz 
* Individually wrapped to preserve freshness 
* Clean smoke-free environment 
* Great for gifts for special occasions, guests, traveling, samples 
* Directions:  Lather, cleanse, and rinse.  Avoid contact with eyes.  If contact occurs, rinse thoroughly with water.  For external use only.  Store in draining dish so soap dries and lasts longer. 
* Ingredients:  Coconut Oil, Palm Oil (sustainable), Safflower Oil, Glycerin (vegetable origin), Goat Milk, Water, Sodium Hydroxide (saponifying agent), Sorbitol (moisturizer), Propylene Glycol, Sorbitan Oleate (emulsifier), Oat Protein, Titanium Dioxide (natural mineral whitener) 
* This product has not been evaluated by the FDA and is not intended to diagnose, cure or prevent any disease. 
* Thanks for looking!