---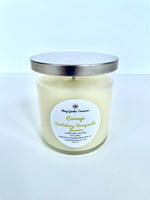 Courage - Revitalizing Honeysuckle Jasmine Soy Wax Candle
Rosy Garden Treasures
* Premium scented fragrance oil blend, dreamy garden aroma mix including honeysuckle, jasmine, violet, amyris, ginger, lemon, and infused with natural essential oil tagete.   
* 100% phthalate-free, no carcinogens, no mutagens, no reproductive toxins, no organ toxins, and no acute toxins 
* Approximate burn time of 35-55 hours depending on trimming of wick and length of each burn time 
* The clear jar allows view of flame and light to shine through when burning, with metal lid and modern shape for classic design style to blend well with any decor 
* Premium natural soy wax produced from US grown soybeans carefully heated and cooled for best aroma scent throw and smooth creamy appearance, burns cleanly and slowly, eco-friendly, renewable, sustainable, carbon neutral, cooler burn lasts longer, less soot than paraffin wax, helping avoid harsh chemicals including petroleum-based paraffin and petrol-carbon soot 
* Soybean wax is naturally biodegradable which makes accidental spills easier to clean 
* Single lead-free, zinc-free, flat-braided, natural fiber cotton wicks burn evenly distributing the premium fragrance, with consistent burn, stable flame, slight curl helping avoid carbon buildup, soot, and reduced smoking 
* No artificial colors or dyes 
* Not tested on animals 
* Hand-poured in Grand Blanc, Michigan, USA, with premium ingredients and love 
* Measures 3 x 3.5 inches 
* Scented candle soy wax contents net wt approx 8.5 oz (240g), with glass jar wt for total shipping gross wt approx 16 oz 
* Great for gifts for special occasions and guests 
* For best hot scent throw, especially the first burn and each time you burn your candle, ensure you are allowing the entire top layer of the candle to reach a full and even burn melt pool of liquid wax across the entire candle for best results since scent throw comes from the melt pool.  So in order to fill the room with fragrance, it can take 2-3 hours of burn time. 
* Directions:  Always trim wick to 1/4 inch before each lighting use.  To prevent fire, burn within sight and do not leave burning candle unattended.  Keep out of reach of  children and pets.  Do not use if glass is chipped or cracked.  Keep matches and all foreign objects material away from lit candle.  Do not burn on cold, wet or unstable surface.  Place candle on a flat, heat-resistant surface away from drafts.  Keep lit candles away from anything that can catch fire.  Do not touch or move lit candle.  Wait until wax hardens to move a candle.  Never burn more than four hours.  Stop using candle when 1/2 inch of wax remains.  Do not extinguish with water.  Discard after use.  
* Ingredients:  US-grown soybean wax, fragrance oils, essential oils, lead-free cotton wick 
* Disclaimer:  This product has not been evaluated by the FDA and is not intended to diagnose, treat, cure, or prevent any disease or health condition.  
* Thanks for looking!